Updates in your KYC Toolbox from 18.08.2020
EMAIL-EDITOR ALLOWS FOR A SECOND EMAIL ADDRESS AS CC
NEW The Email-Editor has been extended by the new functionality to add a second Email-Adress on copy. By using this functionality, a Compliance Officer (as an example) is from now on able to keep track of the process and to receive the Email invitation always on copy.
Preview of the new Email-Editor: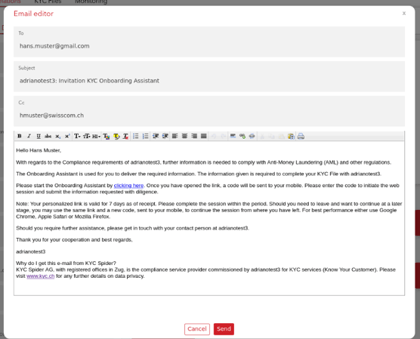 IMPORTANT: Please note that you are only allowed to capture one email address.
The new functionality is available for the following tools:
Onboarding Chatbot
Verification Chatbot
Upload Service
Support Desk
We don't expect any noticeable interruptions or delays.