Updates in your KYC Toolbox from 19.11.2019
USER SETTINGS
NEW the mandator (account) and user name are displayed in the user settings tab.
FILTER
NEW the filters in the two tabs "Customers" and "Contracts" have been restructured and new filters have been added. In the customer overview you can now filter according to the different risks in the category "Check Risk" or "Verification Risk". You can also filter all customers for whom the possible hit verification has already been performed: Filter "is verified".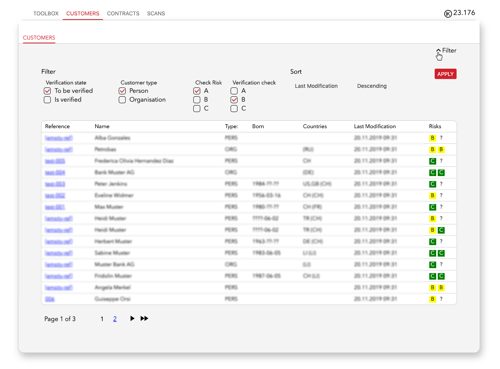 PAGING
NEW the number of pages is displayed in the customer and contract overview. Furthermore, you can jump directly to the first or to the last page.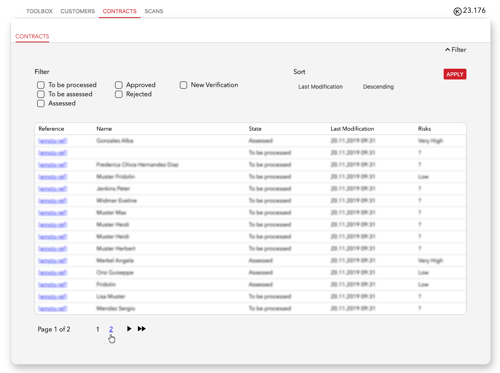 REGISTER CHECK
NEW the Button «Register Check» has been renamed to «Registry Check».
SCAN / RE-CHECK
NEW it is now possible to Re-Check all your existing customers with one single klick. If the data are stored in the Toolbox and the verification of the potential hits has been performed for all customers, it will show you entities for which changes have been registered only (e.g. new on a sanctions list). Furthermore, the output of information has been extended when a scan is completed via upload of a CSV file and the Scan Format description has been updated (updated scan format description).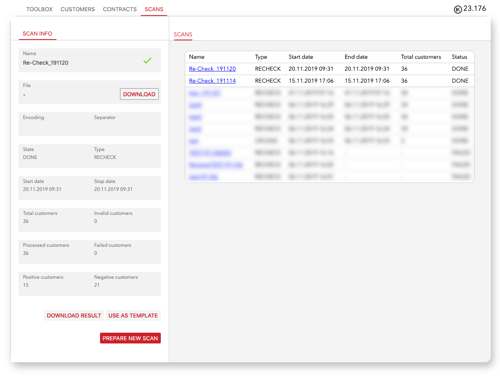 If you have questions to the new features, please do not hesitate to contact the KYC Support team.